Smiles that stand the test of time!
Dental implants could be the answer you have been searching for to replace missing teeth.
When considering replacing a missing tooth or several teeth, we offer the following options for our patients;
Dentures (a removable plate with false teeth)
Dental Bridge (Attaching a false tooth to an existing tooth)
Dental Implants
What are Dental Implants?

A dental implant is a metal screw that is surgically inserted into the jaw bone to allow a false tooth – crown or denture, to be attached over it. It is considered the next best thing to a natural teeth.
Dental Implants can be used in a wide variety of ways, but these are the most common:
As a replacement of a single tooth
As attachments for retaining a denture
🔼 Learn about dental implants
Download your FREE Dental Implants Guide Ebook!
Fill in the form below for your FREE Ebook! All fields marked

*

are required.
What Happens Before the Dental Implant
Consultation and information gathering
During the initial consultation, several imaging investigations will be required to assess the existing quantity and quality of your general overall oral health, jaw bone and the position of vital structures (sinuses, blood vessels and nerves) around the implant area.
These imaging investigations are usually
Orthopantomogram (OPG) – a large x-ray of your jaws

Cone Beam CT – provides a 3-dimensional image of the area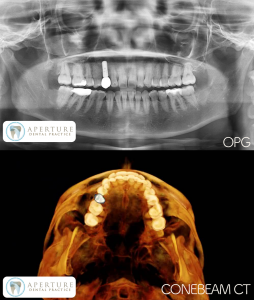 Your medical history will be checked to make sure you don't have any medical conditions that may affect bleeding and healing.
It is important that you tell the operating dentist about these conditions and any medications you are taking.
Impressions of your upper and lower jaw will also be taken to construct a study model. This is for:
Dental Implant Treatment planning

Fabrication of stents and guides to help with the implant placement

Making a temporary prosthesis to fill the gap during the healing process (temporary denture/bridge)
Once all the investigations, assessments and dental planning are done, you are ready for the procedure.
The Dental Implant Procedure
1. Construction of stents and temporary prosthesis
Stent
In cases where two or more implants are placed at the same time, it is very important that the surgeon knows exactly where to place the implants in the mouth, and to place them parallel to each other. The stent helps with this.
Temporary Prosthesis
Generally, healing and bony integration usually takes about 3-6 months. During that time, a temporary prosthesis (e.g. temporary denture) may be required for replacement of front teeth while the implant settles under the gums and bone. 
The prosthesis acts as protection to prevent undue trauma or pressure on the implant during this healing period, and maintains the space between teeth. Besides, you wouldn't want to be without a front tooth for three to six months, right? The stent and temporary prosthesis is not required in every case.
2. Placement of the Implants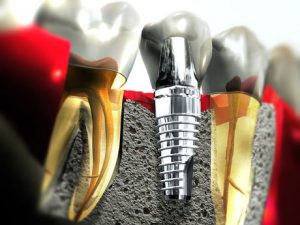 Once the temporary prosthesis and stents are ready, you will be ready for insertion of the dental implants.
This procedure takes approximately an hour, depending on the number of implants placed, and if extra bone material is needed.
You will be given local anaesthetic to fully numb up the area. You will feel vibration and touch, but no pain at all.
Most of the time, depending on how many implants are placed, you will be awake for the procedure. The relevant area for implant insertion will be numbed up. You may feel some vibration during the drilling and placement of the implant, very similar to having a filling done.
Once the implants are in, the surgical area will be stitched and closed over. Next, the temporary prosthesis will be placed over it.
We then let things heal up over the next 3 – 6 months. Your gums will be stitched over the implants, which remain below the gums, so you won't see the implants. During this time, the implants will integrate with your jaw bone and the area will heal over.
Not all cases require a temporary prosthesis. If you don't mind having a missing tooth during this 3 – 6 months period, there is no need for a temporary prosthesis.
3. Impression for the permanent prosthesis
After 3 – 6 months, your dentist will check that the implants are well integrated with your jaw bone – firmly in place, with no loosening, swelling or infection around the area. An x-ray may need to be taken at this point as well.
If all is well, the permanent prosthesis (crown or denture) is ready to be constructed.
This will require a small surgical procedure to expose the tops of the implants for some more impressions. This part of the procedure is a bit technical to explain. So just trust your dentist as he does the impressions.
After the impressions, a little screw-like abutment will be placed over the implant. This time, the abutment will not be covered completely by the gums. The gums will be stitched around the abutment in preparation for attachment of the new prosthesis.
4. Placement of the prosthesis
In a few weeks, when the permanent prosthesis (crown/denture) has been constructed and tried in, it is either screwed, cemented or clipped on to the exposed implant abutment.
Further adjustments may need to be made to the crown or denture, but the implant procedure is now complete.
Dental Implants Sunnybank Hills
Do you need to replace your missing tooth? Would you like to know more about dental implants?
Contact our friendly team at Aperture Dental Practice on 07 3188 9477 to find out more. We are more than happy to assist you! 
Payment Plans Available
Denticare, National Dental Plan (Humm), Zip Money
Frequently Asked Questions
What happens after the dental implant procedure?
After your implants are placed, it is extremely important to follow the post-procedure instructions given to you by your dentist. 
It is also important to attend your review appointments as instructed by your dentist. During these appointments your dentist will review your recovery, and ensure the implants are successful. These reviews take place every 3 months with possible X-rays to check bone levels and the implants' integration with your jaw bone.
What are the advantages of dental implants?
It is permanent – unlike dentures which flop around, dental implants are integrated into the bone. This means you don't need to take the implants out at night before you go to sleep.
If you have full dentures, attaching them to dental implants will make them 100 x more retentive.
High success rate – dental implants have a very high success rate of up to 95-98% and can last a very long time if done well and taken care of.
No need to adjust or shave off existing teeth – unlike bridges, the implant stands independent of other teeth, which means no adjustments or attachments to other teeth.
What are the disadvantages of dental implants?
Requires a surgical procedure – In order integrate the implant to the jaw bone; it needs to be embedded into position by surgery.
Not immediate – depending on the position of the tooth, you may require an intermediate restoration while waiting for integration of implant.
Relatively more expensive than other options, however, as the technology becomes more available and improves, dental implants are getting more
Takes time to integrate to the bone – round about 3-6 months, depending on which part of the jaw it is placed.
What are the general risks of dental implants?
Bleeding, pain, swelling
Non-healing surgical site
Non-integration of implants to the bone
Damage to important structures – nerves, sinus, existing teeth
Peri implantitis – inflammation of the tissues around the implant
SMOKING will ensure implants failure!
Non-Parallelism – when placing more than 1 implant for a full denture, the implants are placed parallel to each other. This is why accurate imaging and stents are made to help guide the implants in the right position and direction.
How will my new teeth differ from my natural ones?
Dental implants blend seamlessly with your natural teeth. They look and feel just like your natural teeth! Apart from the implant root, implants are incredibly similar to natural teeth.
How safe are dental implants?
As with any surgical procedure, dental implants do pose their own set of risks. However, if performed by a trained and reputable dentist, the procedure and restoration itself are relatively safe.
Am I a good candidate for dental implants?
This will have to be determined by your dentist. Generally speaking, those who are deemed suitable for dental implants have significant bone density in their jaw. This will be determined by an X-ray. You should also be in good oral and general health to undergo the procedure.
What are dental implants?
Dental implants are metal anchors that are surgically placed into the jawbone. Small posts are attached to the implant and provide stable anchors for the replacement crown.
Contact us today to talk about our range of complex, cosmetic and general dentistry. Our friendly Aperture Dentists Sunnybank Hills team will be in touch with you soon. We are conveniently located to service patients living in surrounding areas, including Calamvale, Acacia Ridge, Runcorn, Coopers Plains and Kuraby. We are just a short drive for patients looking for a Dental Clinic in Sunnybank, Mt Gravatt and Macgregor regions.