Aperture Dental has the technology to provide you with crowns, bridges, inlays and onlays within a day!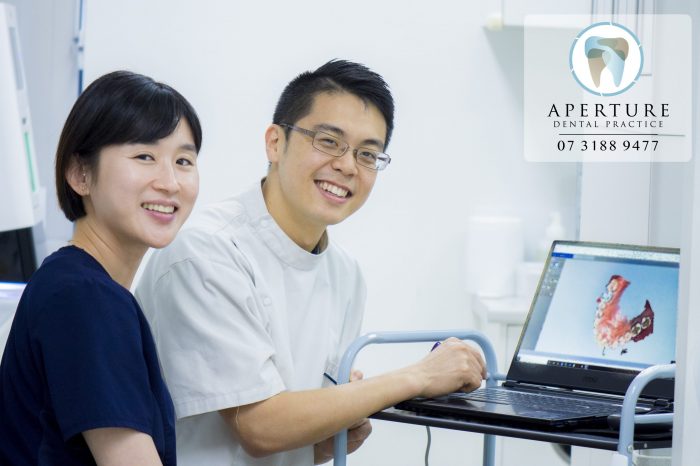 Have you been told that you need a crown?
Crowns are recommended in a few situations to strengthen the tooth:
Large fillings – the existing parts of the tooth are now at risk of cracking or breaking
After Root canal treatment – the tooth is now structurally weaker and at risk of cracking or breaking
If a tooth is cracking or breaking
Cosmetic reasons to improve colour or shape of your existing tooth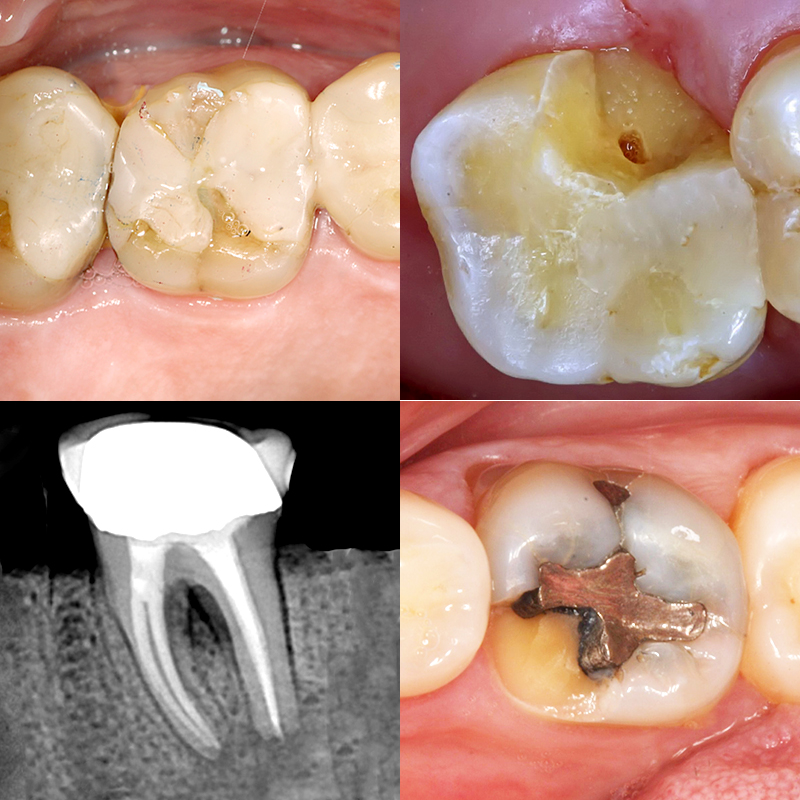 What is a crown?
A crown, or a cap, is a lab-made prosthesis that fits over the tooth to strengthen the tooth and prevent it from breaking apart.
Traditionally, a crown is made from a gold alloy, or from metal fused to porcelain (PFM).
Newer all-porcelain materials have been developed to withstand the forces of chewing. Some examples of these materials are Zirconia, Emax, etc. They are very strong and they have excellent colour-matching properties.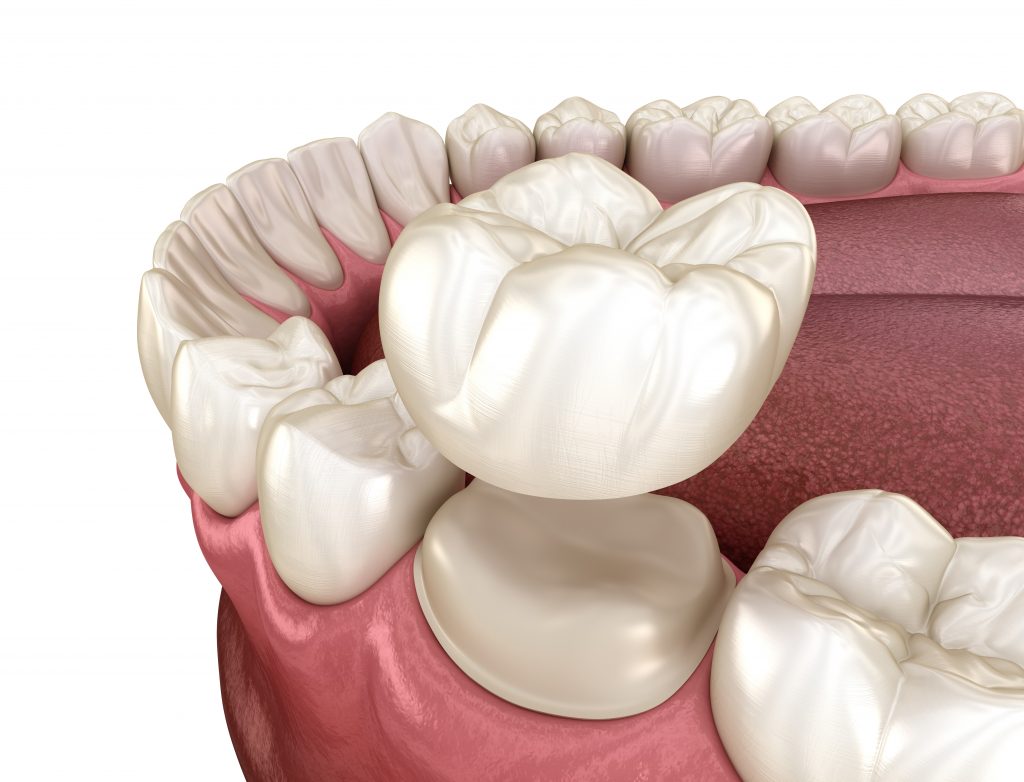 I am interested, what do I do?
1. Initial Consultation $80
First, we will need to arrange an initial consultation appointment so your dentist can create a treatment plan.
During this appointment, your dentist will assess your tooth, take an X-ray and have a discussion with you. This is also a great opportunity for you to ask any questions you may have.
This consultation can also take place as part of your dental check and clean appointment.
2. Deposit $200
After the initial consultation, if you decide to proceed with a same day crown, we will require a non-refundable deposit of $200* at the time you make an appointment. (Please see terms and conditions).
Send us a message to learn more about Same Day Crowns! Our friendly team at Aperture Dental will be in touch with you soon.
Will my private health insurer cover this treatment?
We accept all Private Health Funds. Your rebate amount will depend on your level of cover with your private health insurer. Please contact your private health insurer to find out your Major Dental Cover and conditions.
Some of the relevant item numbers include (but are not limited to):
613 – Full crown non metallic indirect
072 – Intra oral photographic records
Do you bulk bill for dental crowns?
No, Medicare does not bulk bill for Dental Crowns in private dental practice.
Do you have payment plans?
Yes!
We have a few interest-free payment plan options (National Dental Plan, Denticare and Zipmoney) to assist with making your dental treatment more accessible.
Give us a ring on
07 3188 9477
and speak to our friendly team to find out more, or click
HERE
for more information.
Find out more about our Payment Plans
Denticare, National Dental Plan (Humm), Zip Money
What is the
traditional process
to get a crown made?
Crowns (and most prostheses) were traditionally made by a dental technician in a dental lab. This produces the long lasting and high quality crowns that we have come to know.
This process typically involves:
Taking several impressions of your teeth, which can be messy, uncomfortable and causes gagging in some people
Making a temporary crown
Sending the impression to the lab
Pouring up some models
Fabricating the permanent crown by the technician
Sending the permanent crown from the lab back to the dental practice
Finally, getting you back in at another appointment to have the crown cemented/fitted for you
Any adjustments will require communication back and forth with the lab
The typical timeframe for this is 2-3 weeks before the final fitting of the crown.
What happens during my
same-day
dental crown appointment?
Your appointment will take approximately 2 hours. During that time, your tooth will be prepared for the crown, then a digital impression will be taken, and your crown fabricated in our milling machine. 
1. Tooth preparation
With any crown, your tooth will need to be prepared. This may mean:
Removing existing decay or fillings
Building the tooth up in preparation for the crown
Shaping the tooth
Local anaesthetic
2. Digital Impressions / Scanning
Your teeth will be scanned with an intraoral scanner to create a digital impression. No more messy impressions, bad taste and risk of gagging!
3. On-site Milling
Once your digital impression is ready, your dentist will plan and design your crown using a CAD/CAM software.
After that, your crown will be fabricated with our on-site milling machine within 20 minutes.
During this time, you may choose to watch your crown being milled, continue watching a movie on our 50" TV on our ceiling, or proceed with other treatment (e.g. teeth whitening, any fillings you require, etc.).
4. Cementing the crown
Once the milling of the crown is completed, it will be polished and cemented on to your prepared tooth!
In majority of cases, we will be able to cement your crown during that appointment itself. However, there may be a small number of instances where you may require a separate appointment to complete the process.
What technology do we use now?
Digital intraoral scanner
At Aperture Dental, we can now take digital impressions of your teeth using a digital intraoral scanner.
What is it?
The Digital intraoral scanner takes the place of the traditional messy impressions. With an intraoral scanner, we can now replicate your teeth into a digital model in a matter of minutes, much more accurately than before.
How does it work?
The intraoral scanner takes about 1000 pictures per second of each area. And while sweeping it across the teeth, these pictures are stitched together to create a 3D model of your teeth and jaws.
What are its benefits?
This means no more gagging, bad taste, and stains on your face, and accidental spills outside the mouth!
Also, with increased accuracy and digital planning, alterations can be made immediately to ensure the best crown fit for you.
If external labs are required, we can send the digital impressions to anywhere in the world with the click of a button, reducing time wasted on postage.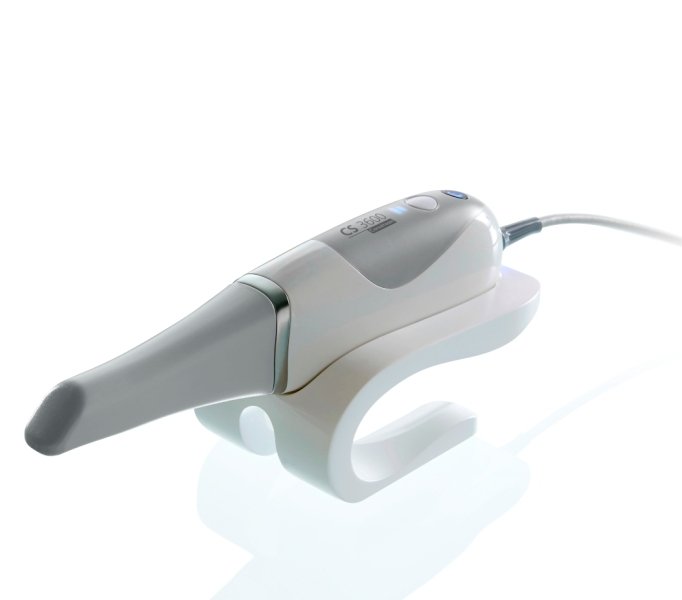 With your digital impressions, your crown will be designed using the latest CAD/CAM software technology.
Once the crown is designed, it can be created (milled) right away, on the spot!
Your crown can then be fitted, usually within the hour.
This means an accurately designed crown created within the hour!
Traditional
Messy impressions
Postage to labs
Potentially inaccurate with multiple impressions
Plaster moulds
Made by a lab technician at another location
2-3 weeks wait
Several visits
Modern
Clean Digital 3D Scanning
No postage – saving time and no risk of getting lost in the post
High accuracy, able to make immediate corrections
3D printing
In-house milling
Same day fabrication and cementation
Single visit
| Traditional | Modern |
| --- | --- |
| Messy impressions | Clean Digital 3D Scanning |
| Postage to labs | No postage - saving time and no risk of getting lost in the post |
| Potentially inaccurate with multiple impressions | High accuracy, able to make immediate corrections |
| Plaster moulds | 3D printing |
| Made by a lab technician at another location | In-house milling |
| 2-3 weeks wait | Same day fabrication and cementation |
| Several visits | Single visit |
Up to 10 Years Warranty*
The crown itself will be guaranteed for 2 years – including breakage, debonding and re-making a new crown.
Your dental crown will be guaranteed for an additional 8 years*, with regular 6 monthly check and clean maintenance visits at Aperture Dental Practice. This ensures that we catch any problems early, and can take steps to resolve it.
However, any future/further pathology, or its treatment, affecting your tooth itself – eg. dental decay, dental infection, gum and bone disease, fractures of the tooth, root canal treatment, or extractions – which may or may not affect your crown, will not be covered by our warranty.
* Guaranteed warranty for 2 years, with an additional 8 years with regular visits at Aperture Dental Practice.
So if you've been told that you need a crown, but have been putting it off because of the discomfort, time or cost, give us a ring on 07 3188 9477 to arrange a consultation to see if Same-Day Crowns are suitable for you!
* Terms and Conditions
An initial consultation appointment ($80) is required to assess the condition of the tooth and enable treatment planning prior to the SAME-DAY crown appointment.

If a tooth requires treatment prior to the crown, this may incur further cost and/or extra appointments, which will be discussed as part of the initial consultation.
Not all cases can be completed within a day. A temporary crown may be required, with a subsequent visit for the cementation of the permanent crown. This will be discussed with you as part of your initial consultation, and may incur a further fee.
Appointments for the same-day crown are available on Tuesday mornings only.
This promotion may be terminated at any time without notice at the discretion of Aperture Dental Practice. However, any written quote provided during the promotion period will be valid for 30 days.
Deposit of $200 will not be refunded for any cancellations with less than 48 hours notice, or failure to attend your appointment. In the event of circumstances beyond your control, and providing evidence to demonstrate as such, the deposit may be refunded at the discretion of Aperture Dental Practice.
Contact us today to talk about our range of complex, cosmetic and general dentistry. Our friendly Aperture Dentists Sunnybank Hills team will be in touch with you soon. We are conveniently located to service patients living in surrounding areas, including Calamvale, Acacia Ridge, Runcorn, Coopers Plains and Kuraby. We are just a short drive for patients looking for a Dental Clinic in Sunnybank, Mt Gravatt and Macgregor regions.