Your Healthy Smile Makeover
Dental veneers are thin porcelain or composite resin coverings that are bonded to the front surface of natural teeth to enhance the shape, colour, size or length of teeth.
Veneers are often used to correct tooth imperfections, such as chipped or discoloured teeth, worn or irregularly shaped teeth, or some gaps in your smile. Veneers offer excellent aesthetic results. They can also be done after Invisalign or braces to fine tune your smile so that your smile makeover is complete!
The benefits of dental veneers are not just cosmetic, they can also improve some oral problems, such as your bite. Often the bite, among other factors, can be underlying chipped or worn teeth. Our team works carefully to plan your veneers such that the result will not just be a cosmetic, but also a functional or health improvement.
The biggest benefit of veneers is improving the appearance of your teeth, giving you a brighter and healthier smile! Veneers:
Preserve natural tooth structure
Can change the colour of your teeth or match them to other teeth
Can change the shape or length of your teeth to fit your smile
Can be done without or after Invisalign or braces
Veneers are often used to treat the following problems:
Discolouration that can't be fixed with teeth whitening
Front teeth lacking a uniform appearance due to many different shades of fillings or stained fillings
Broken or chipped teeth
Gaps in the teeth
Pointed or unusually shaped teeth
Crooked teeth not needing orthodontic correction
Veneers can last for more than a decade with care and maintenance (and depending on the type of veneer you choose), making it a worthwhile investment for a confident smile!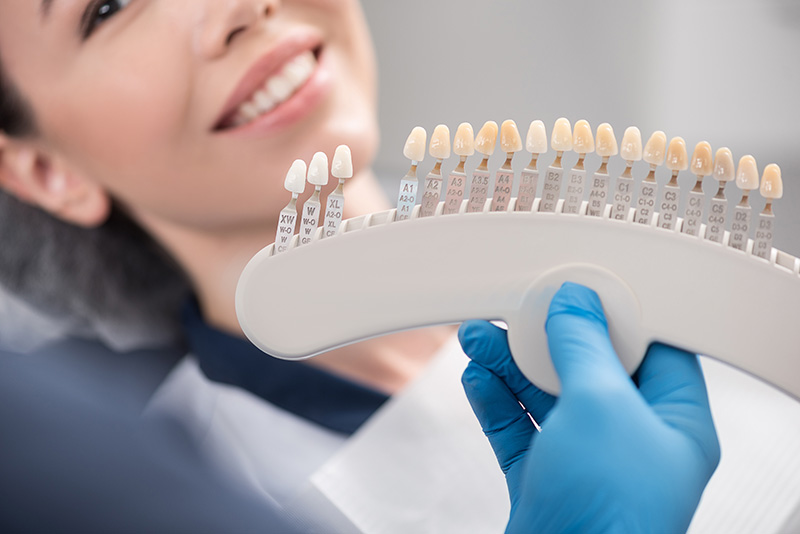 Comparison between Composite Veneers and Porcelain Veneers
Composite veneers can be used to address small cosmetic issues such as chips, discolouration or cracks in the tooth enamel.
The material used is similar to white composite tooth filling material, and is built up across tooth surface in layers to provide a lifelike and natural appearance, before being shaped and polished to suit the wearer. Little or no drilling is involved in this type of procedure, and a healthy smile can be enjoyed almost straight away.
Composite veneers can give almost immediate results in a single dentist visit and are a cost-effective way of achieving the beautiful smile you've always wanted.
Porcelain veneers are custom-made, fine shells that are designed to fit snugly onto the front of your affected tooth or teeth.
These lab-manufactured veneers are typically stain resistant and have better longevity than composite veneers. A small amount of tooth enamel is sometimes reshaped to ensure a perfect fit for this type of veneer, and to ensure that the new veneer works beautifully alongside the other teeth.
Porcelain veneers require two visits to the dentist – one for preparation and to have a precise mould made in a dental laboratory, and second to fit the custom-made veneers onto your teeth. In the meantime, temporary shells are placed on the teeth.
Before and After Veneers - See the Results
Here are some examples of smiles improved by teeth veneers!
Are Veneers Right for Me?
The best way to decide whether veneers are right for you would be to visit your dentist for a consultation. Click here to
book an appointment
and find out if you are a good candidate for dental veneers –
our team will advise you about options that are most appropriate for you.
Now you can achieve the dream smile you've always wanted!
The difference between Dental Bonding, Dental Veneers and Dental Crowns
Bonding, veneers and crowns can all be used to enhance the appearance of your teeth. All three procedures can achieve great results and give you a brighter and healthier smile. Talk to your dentist to find out which procedure is best suited to your particular needs.
Dental bonding is the application of composite resin to a small portion of your tooth; it is often used to correct minor damage, such as a chip.
Dental veneers are a thin layer that covers the complete front surface of your tooth and is a longer-lasting cosmetic solution.
Dental crowns are not just cosmetic, but are also used to protect and cover the whole tooth when it is badly damaged. It is a more involved procedure as it requires your natural tooth to be significantly trimmed down before a crown can be placed over it.
Can veneers replace orthodontic work?
Veneers are a cosmetic solution for minor dental imperfections - but they cannot replace orthodontic work when it comes to fixing major teeth misalignments.
If you are simply looking for a more aesthetically pleasing smile, veneers can be used to cover small gaps between teeth and improve their shape (e.g. for small, short or chipped teeth). If required, your dentist can even reshape or remove gum tissue in order to make your teeth look bigger.
Can I whiten my teeth before getting new veneers?
If you are looking to whiten your teeth before getting veneers, Zoom whitening is an option we recommend - Click for details. We will then match your dental veneers to other teeth to give a uniform colour, giving you that ideal smile you've always wanted!
How long do dental veneers last?
Composite veneers usually last several years; while porcelain veneers last an average of 10-15 years. Regular six monthly check-ups and cleans are recommended for any type of veneers, so any issues can be prevented or picked up early. In many cases, mouthguards are worn at night to protect the dental work.
How much do dental veneers cost?
The cost for veneers will depend on your individual needs. Please have a chat with our cosmetic dentist at your initial consultation. Health funds can cover some of your veneers cost. We also offer payment plans.
Aperture Dental are very proud to be the preferred dental provider for cosmetic dental procedures with the health providers HCF, Smile and NIB. Click for more details on Health Funds.
How to care for your dental veneers
You should care for your veneers the same way that you care for your natural teeth! Maintain good oral hygiene by brushing your teeth at least twice a day, daily flossing of your teeth, and book your dental check-up's every 6 months. (If you tend to grind your teeth at night, you may want to consider using a mouthguard to avoid grinding.) Click here to read about Dental Hygiene Tips.
Veneers Sunnybank Hills
Are you ready for the new smile you've always wanted? To find out if you're a suitable candidate for veneers, please have a chat with one of our trusted cosmetic dentists at your initial consultation. Contact us at Aperture Dental Practice on 07 3188 9477 today! 
Payment Plans Available
Denticare, National Dental Plan (Humm), Zip Money
Contact us today to talk about our range of complex, cosmetic and general dentistry. Our friendly Aperture Dentists Sunnybank Hills team will be in touch with you soon. We are conveniently located to service patients living in surrounding areas, including Calamvale, Acacia Ridge, Runcorn, Coopers Plains and Kuraby. We are just a short drive for patients looking for a Dental Clinic in Sunnybank, Mt Gravatt and Macgregor regions.