Splint for teeth grinding
A splint for teeth grinding works like a guard between your teeth.
It is removable and we mould it to your teeth to ensure a comfortable fit.
The splint absorbs the pressure created by the grinding and gives your teeth, jaw bones and muscles a well needed rest.
In severe cases of teeth grinding, you may need to be referred to a specialist so they can relax your jaw muscles and allow them to function normally.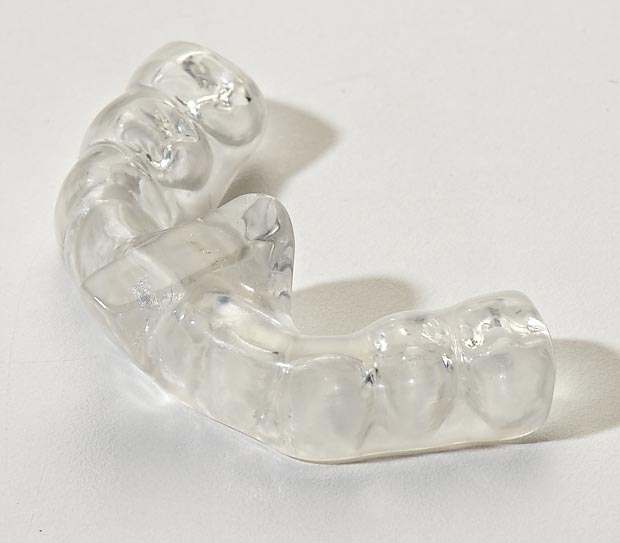 How is a splint made?
The procedure is very straightforward and it only takes two visits.
During the first visit, we create a mould for your teeth. This mould is sent off to a dental laboratory for a splint to be made.
During your second visit, the splint will be fitted and checked.
If it is a good fit, all you have to do is wear the splint every night and you'll go a long way to saving your teeth and preventing all those aches and pains.
Why do I need a splint?
If you suffer from bruxism, a splint can help to prevent chipping, wearing, fracture and eventual loss of your teeth. This also helps you to avoid needing expensive dental treatment in the future.
Patients who suffer from bruxism often find everyday activities like chewing painful. Splints take the pressure off your teeth, decreasing the pain and making it easier to eat.
Teeth grinding causes problems such as jaw pain, headaches, and muscle tightness. This can have debilitating effects on your day to day life. A splint is often an effective way of addressing and preventing this pain, allowing you to enjoy life more.
Splints Sunnybank Hills
Need more information on mouth guards and splints? Contact our team of dental professional at Aperture Dental Practice for more information.
Contact us today to talk about our range of complex, cosmetic and general dentistry. Our friendly Aperture Dentists Sunnybank Hills team will be in touch with you soon. We are conveniently located to service patients living in surrounding areas, including Calamvale, Acacia Ridge, Runcorn, Coopers Plains and Kuraby. We are just a short drive for patients looking for a Dental Clinic in Sunnybank, Mt Gravatt and Macgregor regions.