Smile with confidence again!
If you have missing teeth, one of the options for replacing them are conventional dentures with our Sunnybank Highly Experienced Dental Practice
A denture is a removable prosthetic option for replacing your missing teeth.
It needs to be taken out to be cleaned, and when you go to bed.
Here at Aperture Dental Practice, we are privileged to have highly-skilled prosthetist, Pei-Song Zhao, who has a wealth of experience in creating comfortable and natural looking dentures.
What is the difference between full and partial?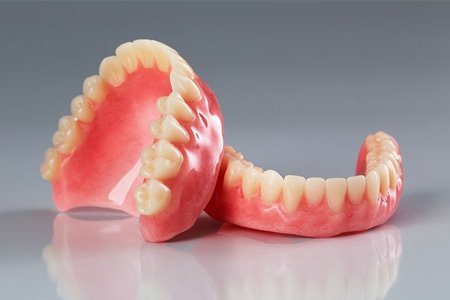 Full Dentures
If you have no teeth, you will need full dentures.
The fit of a full denture depends almost entirely on suction to the gum tissues in the mouth.
Providing a picture of how your teeth used to look like will help your prosthetist in designing your full set!
Retention of full dentures greatly increases if they are attached to implants.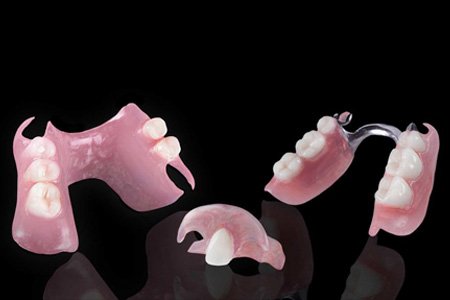 Partial Dentures
A removable partial denture is made of plastic and metal with clips to attach to adjacent remaining teeth. 
Most missing teeth gaps can be filled with a removable option. The primary advantage of this option is the reduced cost compared to that of bridgework or implants. These appliances typically last about 10 years.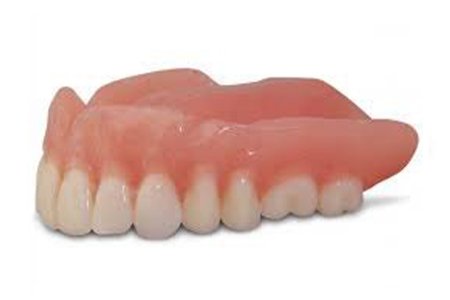 Immediate Dentures
If you need a tooth removed and replaced, we typically suggest making the denture first.
Once it is ready, the tooth can be extracted, and the new dentures can be fitted immediately.
These dentures may need to be adjusted further when the extraction socket heals.
What is a reline?
A reline is done when the dentures are ill fitting. This happens when they start to get old, or an extraction has been done recently. In both cases the jaws have changed shape. 
There are two types of relines:
1. Hard relines are typically used in most situations.
2. Soft relines are considered when the hard-acrylic material cannot be tolerated. It is much more comfortable than a hard surface and helps especially in the lower jaws where the mental nerve is close to the fitting surface, or ulcers occur frequently due to the rubbing on the tissues.
Acrylic Dentures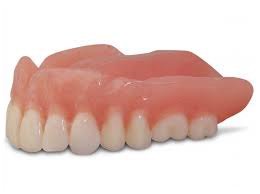 The replacement teeth are connected by a pink material called acrylic (plastic).
The advantage of acrylic dentures is that it is easily made, modified and is cheaper. Clasps can be embedded into the acrylic to hook on to the existing teeth
Chrome Dentures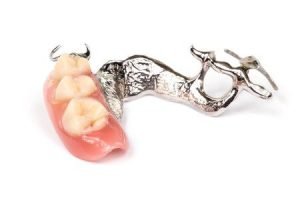 Chrome dentures have metal connectors.
The advantage of using metal is that the frame is strong in thin sections. Also, the clasps used to hook on to the teeth are part of the metal frame.
This type fits very snugly to the teeth and can last for a long time. Because of its high strength, the frame doesn't even need to cover the whole palate. 
Valplast Dentures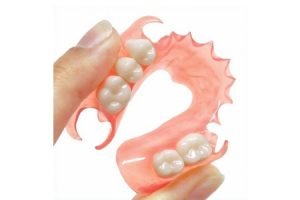 Valplast are made of a strong, but flexible material.
Very similar to acrylic in terms of colour, it has several other advantages. Because it is flexible, it is very comfortable to wear and some even say it is unnoticeable in the mouth.
However, the main reason for getting this type is the Valplast clasp. Clasps on the other types are made of metal, and can be very obvious if they are placed in the front teeth. Valplast clasps are gum colour (pink).
The Advantages of Dentures
Tips on Caring for Your Denture
As you know, they are not your real teeth, so you need to take a few simple steps to care for them.
Do not wear them at night when you sleep!
Your mouth needs time to recover and self-clean for a few hours a day. Saliva flow is the lowest at night, which means bacteria remains on the surfaces inside your mouth for a longer time. Leaving things in your mouth at night increases the risk of tooth decay and gum disease.
Also, leaving your dentures in at night means constant pressure on your gums from the dentures. This increases your risk of gum recession. Over a period of time, you may find that they have sunk in, and your natural teeth have "grown" longer.
When you are not wearing your dentures, keep them in a glass of water. The dentures may deform if it is left out too long.
Brush your dentures with a soft toothbrush and soapy water.

Toothpaste can be too abrasive for the denture and can wear it down.

Clean your own teeth with a soft toothbrush and fluoride toothpaste. If you don't have any teeth, use a mouthwash.
Clean your dentures with Steradent for a few hours once a week. This helps to remove any bacteria you may have missed during regular cleaning. However, sterilising your denture too often may cause the pink colour of your denture to fade.
Regular dental health checks with your dentist is important even if you don't have any teeth.
If your dentures no longer fit well, there can be a variety of reasons. It is important to see your dentist or prosthetist early to have it adjusted to prevent further damage to your dentures, or trauma to your gums.
Dentures Sunnybank Hills
Give yourself a reason to keep smiling!
Speak to our helpful team at Aperture Dental Practice about the most suitable fit for you. Give us a ring on
07 3188 9477
to book your
consultation
 with us today!
Payment Plans Available
Denticare, National Dental Plan (Humm), Zip Money
Contact us today to talk about our range of complex, cosmetic and general dentistry. Our friendly Aperture Dentists Sunnybank Hills team will be in touch with you soon. We are conveniently located to service patients living in surrounding areas, including Calamvale, Acacia Ridge, Runcorn, Coopers Plains and Kuraby. We are just a short drive for patients looking for a Dental Clinic in Sunnybank, Mt Gravatt and Macgregor regions.