Smile with confidence again!
If you have missing teeth, one of the options for replacing them are conventional dentures with our Sunnybank Highly Experienced Dental Practice
A denture is a removable prosthetic option for replacing your missing teeth.
It needs to be taken out to be cleaned, and when you go to bed.
Here at Aperture Dental Practice, we are privileged to have highly-skilled prosthetist, Pei-Song Zhao, who has a wealth of experience in creating comfortable and natural looking dentures.
What is the difference between full and partial?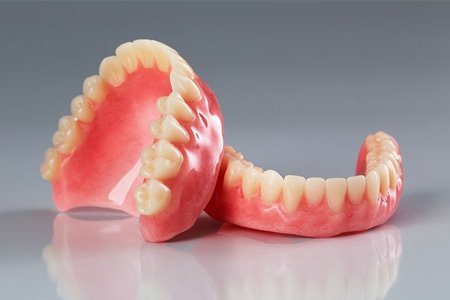 Full Dentures
If you have no teeth, you will need full dentures.
The fit of a full denture depends almost entirely on suction to the gum tissues in the mouth.
Providing a picture of how your teeth used to look like will help your prosthetist in designing your full set!
Retention of full dentures greatly increases if they are attached to implants.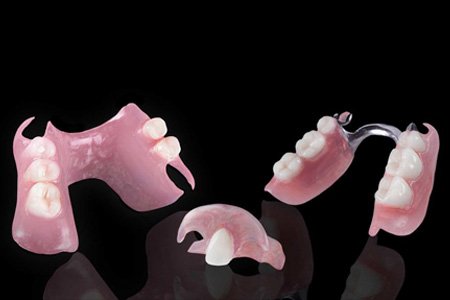 Partial Dentures
A removable partial denture is made of plastic and metal with clips to attach to adjacent remaining teeth. 
Most missing teeth gaps can be filled with a removable option. The primary advantage of this option is the reduced cost compared to that of bridgework or implants. These appliances typically last about 10 years.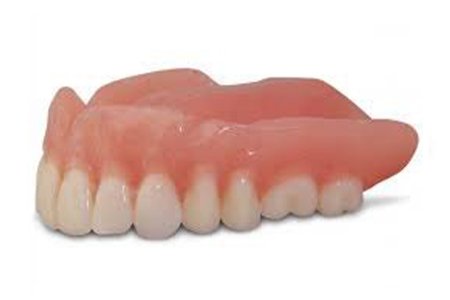 Immediate Dentures
If you need a tooth removed and replaced, we typically suggest making the denture first.
Once it is ready, the tooth can be extracted, and the new dentures can be fitted immediately.
These dentures may need to be adjusted further when the extraction socket heals.
What is a reline?
A reline is done when the dentures are ill fitting. This happens when they start to get old, or an extraction has been done recently. In both cases the jaws have changed shape. 
There are two types of relines:
1. Hard relines are typically used in most situations.
2. Soft relines are considered when the hard-acrylic material cannot be tolerated. It is much more comfortable than a hard surface and helps especially in the lower jaws where the mental nerve is close to the fitting surface, or ulcers occur frequently due to the rubbing on the tissues.
Acrylic Dentures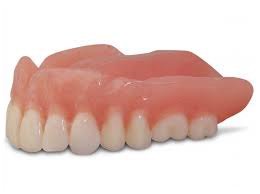 The replacement teeth are connected by a pink material called acrylic (plastic).
The advantage of acrylic dentures is that it is easily made, modified and is cheaper. Clasps can be embedded into the acrylic to hook on to the existing teeth
Chrome Dentures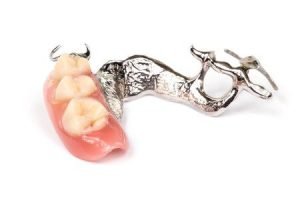 Chrome dentures have metal connectors.
The advantage of using metal is that the frame is strong in thin sections. Also, the clasps used to hook on to the teeth are part of the metal frame.
This type fits very snugly to the teeth and can last for a long time. Because of its high strength, the frame doesn't even need to cover the whole palate. 
Valplast Dentures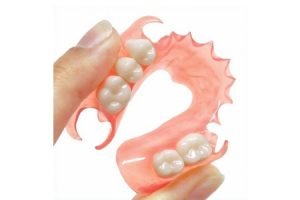 Valplast are made of a strong, but flexible material.
Very similar to acrylic in terms of colour, it has several other advantages. Because it is flexible, it is very comfortable to wear and some even say it is unnoticeable in the mouth.
However, the main reason for getting this type is the Valplast clasp. Clasps on the other types are made of metal, and can be very obvious if they are placed in the front teeth. Valplast clasps are gum colour (pink).
The Advantages of Dentures