Zoom! Into a whiter smile
ZOOM! Teeth whitening is a professional in chair treatment which can help to whiten teeth by up to eight shades in just one hour.
There are many causes to tooth discolouration. Some of the more common causes include:
Consumption of highly coloured foods and drinks (e.g. berries, coffee, tea, red wine, soy sauce etc.)

Certain medications

Ageing

Smoking

Trauma
Getting your teeth whiter at Aperture Dental Practice is now possible with our Philips ZOOM! WhiteSpeed. You can now get your teeth up to eight shades whiter in just one hour!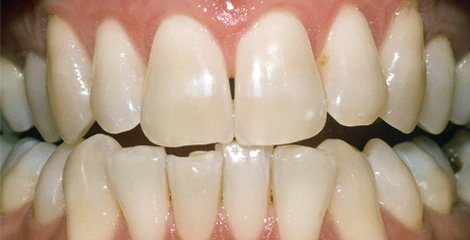 How does the Philips ZOOM! WhiteSpeed system work?
The Philips ZOOM! WhiteSpeed lamp is an in-chair teeth whitening system. It comprises:
LED lamp with variable intensity settings – Allows treatment to be customised for each patient.

Whitening gel – higher concentration of hydrogen peroxide providing faster and whiter results

Special desensitisers- Helps to minimise sensitivity and protect your enamel during the treatment.
This treatment is only available at a dentist's office to ensure maximum safety.
Have a look at this before and after picture of a recent client. See the dramatic results that ZOOM! can deliver.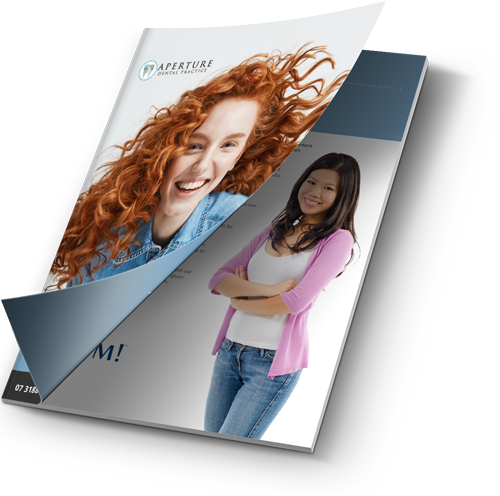 Download your FREE Teeth Whitening Guide Ebook!
What happens during Zoom! Teeth Whitening?
Before: The Assessment
First, your dentist will perform an assessment of your teeth and gums to ensure that ZOOM! Teeth Whitening is a suitable and safe treatment for you.
During the assessment, your dentist will check for
Existing restorations

Dental decay

Presence of plaque and calculus

Prosthetic work (e.g. crowns, bridges, dentures, implants)

Your existing tooth shade – to give you an idea of how white your teeth can potentially go!
If there are any issues requiring attention or treatment before your teeth whitening treatment, your dentist will discuss it with you.This is to ensure the best possible results and comfort during your teeth whitening procedure.
During: Whitening Day
Your comfort, safety and great results are our primary priorities on this day.
During the procedure, your teeth will be isolated with a lip retractor, gauze and a liquid dam that goes over the gums. This is done to protect your gums, tongue and cheeks from contact with the whitening gel.
You may watch a movie of your choice during your teeth whitening procedure. This takes approximately 1 hour to complete.
After: Ongoing Maintenance
After having your teeth whitened, it is important not to consume food or drinks that are dark in colour (eg coffee, tea, curries, chocolates, wine, etc) for the next 48 hours.
Want to maintain your bright white smile at home? Let us know, and there is the additional option of a top-up kit and custom-made trays.
How long will my ZOOM! Whitening results last?
The short answer is – it depends on your lifestyle.
ZOOM! Whitening will help to reduce existing stains.
However, through your regular daily activities such as consumption of coloured foods and drinks, and through normal ageing, your teeth may eventually become discoloured again.  
Maintaining your white smile is possible with a ZOOM! take-home maintenance kit.
What are the pros and cons of ZOOM! Teeth whitening?
Pros
Generally very good result
Relatively quick – only an hour
More concentrated whitening agent is used
Cons
Risk of teeth sensitivity
Risk of chemical burn to the gums, however we take every care to apply a barrier to protect your gums
Existing fillings/ veneers/ crowns will not whiten
ZOOM! Teeth Whitening Sunnybank Hills
Are you ready for a whiter smile? If you would like to professionally whiten your teeth, please contact us at Aperture Dental Practice on 07 3188 9477 today!
Payment Plans Available
Denticare, National Dental Plan (Humm), Zip Money