At Aperture Dental Practice, the health and safety of our staff and patients are of paramount importance.
In view of the current situation with the COVID-19 pandemic, we kindly request that you delay your visit to us if any of the following applies to you or anyone visiting us at Aperture Dental:
Currently experiencing symptoms of fever, cough,

fatigue, generalised body aches, sore throat, stuffy/runny nose, vomiting and diarrhoea.

Returned from an

overseas trip within the last 14 days.

Returned from a cruise trip (domestic or international) within the last 14 days.

Live with a family member/ friend/ house mate who has in the last 14 days returned from a country deemed to be high risk – China, Iran, Italy, South Korea, Japan.

In the last 14 days, been in contact with person/person(s) tested positive for COVID-19.
If any of the above applies to you, but you require emergency dental treatment, please contact:
The Australian Government Department of Health Coronavirus information line on 1800 020 080
Alternatively, contact the Queensland Department of Health on 13 432 584
We will continue to review the COVID-19 situation and will update our policies and procedures to maintain the safest and highest standard of care for you.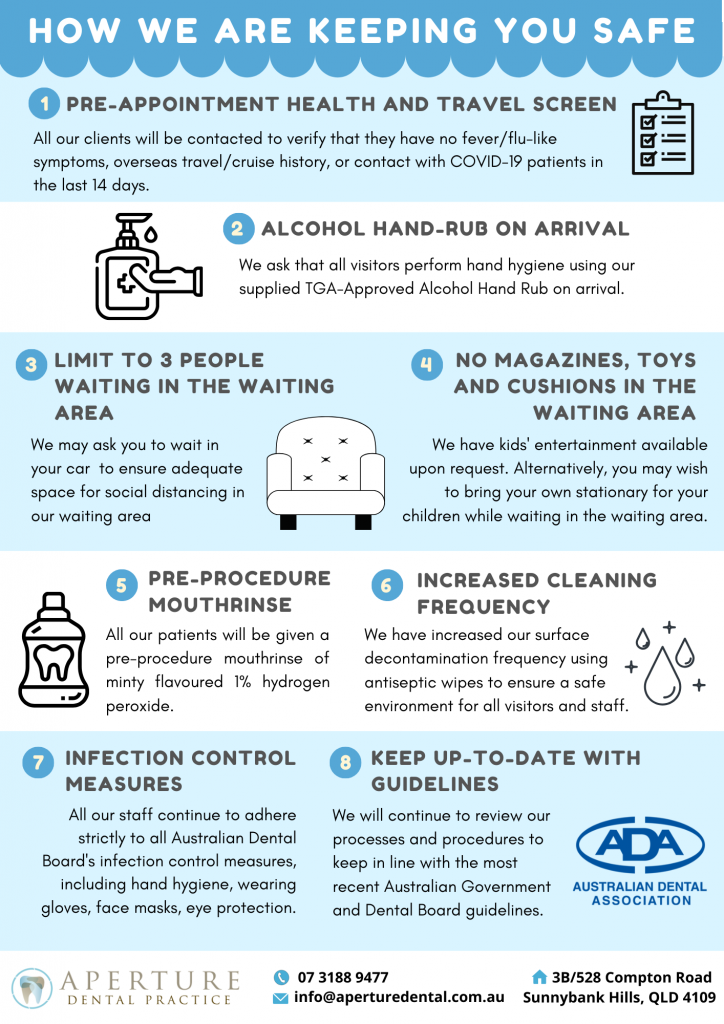 Our opening hours are temporarily reduced to:
Monday  8:00am – 12:00pm

Tuesday  1:00pm – 5:00pm

Wednesday  1:00pm – 5:00pm

Thursday   8:00am – 12:00pm

Friday  8:00am – 12:00pm
Thank you for being part of the collective effort as our community works together to get through the COVID-19 pandemic safely.