The holiday season is well and truly under-way, and most of us are surrounded by festive treats such as chocolates and sweets that are difficult to resist and avoid. To help you get through the holiday season, we have lined up some key tips on minimising the risk of dental decays and keeping your teeth as healthy as you can during this period.
Top Tips for
Protecting Your Teeth
during the Festive Season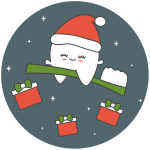 Get Yourself a New Toothbrush
When was the last time you replaced your toothbrush? While everyone's getting shiny new presents it is time to think about your teeth too! You should be replacing your brush every three to four months, or more frequently if the bristles begin to look frayed.
Timing is Key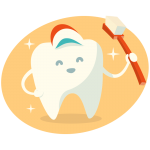 The biggest factor for the development of cavities is the amount of sugar exposure in your mouth. The longer your teeth are exposed to sugars, the higher the chance of developing cavities. So while you are doing the rounds visiting family and friends in the lead up to Christmas and on the big day, it is a good idea to keep your toothbrush handy, maybe you can squeeze in some quick brushes between meals, treats and drinks!
The best time to brush your teeth is wait 30 minutes to 1 hour after eating or drinking any sugary/acidic foods and drinks because initially your tooth enamel is weakened and softened by acid. This gives your tooth enamel a chance to recover and to strengthen before brushing. If you brush too soon, you will be brushing away your weakened tooth enamel.
Brush Your Teeth Regularly
Toothbrushing is the most effective way in protecting your teeth and keeping it healthy. Remember to brush your teeth at least twice-a-day and floss once-a-day. If you are out and about, pack a travel toothbrush and a small tube of toothpaste so you can freshen up wherever you are.
Floss like a Boss
So isn't toothbrushing enough? Toothbrushing is very effective on the front, back and biting surfaces of the teeth except IN BETWEEN the teeth. After eating seasonal sugary treats, it's even more so important to clean your teeth. You'll be surprised to find how much foodstuff you actually remove when you floss!
Click to learn how to floss effectively!
Drink Plenty of Water and Eat Healthy Foods
Drinking water helps us stay hydrated in the summer heat. Water is great for your oral hygiene too, as it will help flush out the sugars, food bits and acids from our mouth. While sugar and sweets are tempting, whenever possible, choose more tooth-friendly food options, such as cheese, fresh fruits and vegetables. Eating cheese with your alcoholic drinks can also help to neutralise any wine acids. Your teeth will thank you for it!
After the Silly Season...
Perhaps a check-up in the New year is best! Get in contact with Aperture Dental today to book your appointment 😊